Motor home spaces in a peaceful and quiet setting
At Rødkærgård we have available motor home spaces. They are located to the south of one of the wings with a beautiful view over Kerteminde inlet and the surrounding fields. The pitch is only for motorhomes with their own toilet.
The spaces are open from April and until November, or by appointment.
The day before the desired day of arrival, it is possible to contact us for booking a place. Otherwise you can also just come by during the day and ask if there is a vacancy – usually there is.
We offer
Electricity, DKK 30 per day
Wifi access
Possibility to refuel drinking water
Access to toilet from kl. 7 – 8 and at 10 – 22, when we are at home. The toilet is closed during breakfast, as well as at night.
We supply electricity for each motor home space as well as access to potable water. It is possible to use the toilet in the dining room between 10 and 22. If your motorhome/RV doesn't have a toilet, you'll have to find a parking space elsewhere with access to toilet facilities around the clock. We do not offer bath or kitchen facilities.
Possibilities at Rødkærgård
Close to the parking spaces for motor homes, a little path leads you down to the inlet. The water is clear and clean and perfect for a swim. It is very often warmer to swim in the inlet than in the water of the beaches of the Great Belt. The inlet is also a great place for taking out one of our kayaks. The nice and quiet water of the inlet makes it safer to try, if it's the first time you are taking out a kayak. Rødkærgård has 2 kayaks, which we rent out to our guests.
You'll also find plenty of possibilities for fishing in the inlet. It only requires a fishing license. Find out more on our angling page.
Close to Kerteminde
Rødkærgård is situated about 3 km from the city of Kerteminde. If you bring your own bikes, it is a easy way to discover the city or the surroundings. This way you won't have to take the motorhome.
Dogs
Dogs are welcome. They HAVE TO be on a leash all the time, though, and their poo MUST be picked up.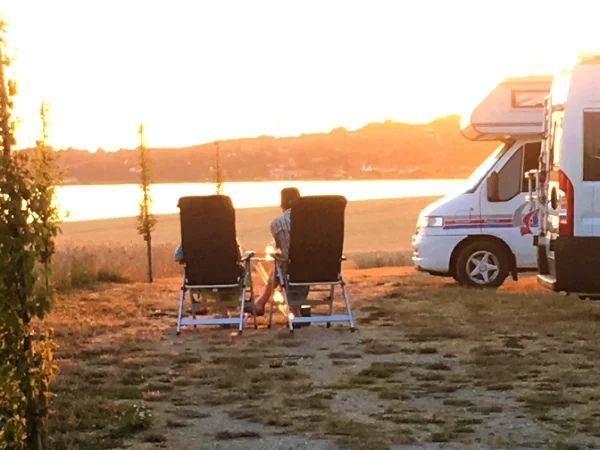 Homebaked breakfast rolls
When spending the night at Rødkærgård, you can most days order home-baked breakfast rolls picked up in the dinning room – fresh and warm.
Breakfast in the B&B dining room
You can add a buffet-style breakfast to your stay. It is served in the dining room where you'll enjoy it along with other guests staying with us. More information about breakfast under rooms. Breakfast is served, most days, between 8 and 9.30 – or according to prior arrangement with us. 
Prices for motor home spaces
Per night: DKK 100,00
Electrical hookup 220V per day: DKK 30,00