Holiday apartment
Lovely holiday apartment in the east-facing wing with a terrace that has views to the old rose beds in the garden. We have two holiday apartments which both contain a combined kitchen and living room, a bedroom with a double bed as well as a bathroom with shower, washing machine and dryer. The sofa in the living room can be converted into a queen size double bed (140 cm wide) that sleeps two persons.
The apartments have free Wi-Fi. The kitchen has a refrigerator, freezer, dishwasher, oven and cooktop. The American-style kitchen is part of the living room where you'll find a TV.
Own terrace
Each apartment has its own wonderful furnished wooden terrace with morning sun from where you can enjoy the views to the pond, the garden or even catch a glimpse of the red rooftops in Kerteminde. Or you can go out and pat the horses, Martha and Caesar, who are usually very interested in a good little talk and some scratching behind the ears. You are welcome to bring your dog to the apartments.
Sunset over the inlet
In the afternoon and on summer evenings the terrace in front on the dining room, which enjoys beautiful views to the inlet, is bathed in sunlight. This terrace is for all our guests. The entire garden can also be enjoyed and here you'll also find different idyllic small spots – ideal for enjoying the sunset.
History of the wing where the holiday apartments are situated
Where you now find one of the apartments, there used to be an old carriage house when Pia's grandparents cultivated the land. When Pia was a child, it wasn't carriages that were parked there, though, but a Volvo Amazone. The other apartment lies where the washhouse used to be with the kettle that among other things was used for washing clothes. This wing also comprised farmhand chambers and a woodshed.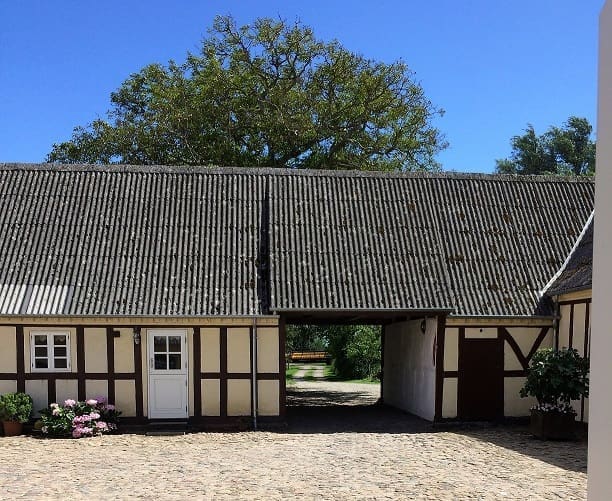 Prices
Per night for one or two people: DKK 795.00 / pr. week: DKK 5170.00
Per night for three people: DKK 845.00 / pr. week: DKK 5495.00
Per night for four people: DKK 895.00 / pr. week: DKK 5820.00
The price includes bed linen and towels. It's most days possible to add breakfast to your stay. We serve it in our dining room for an additional DKK 90,00 per adult and DKK 60,00 per child up to 12 years.