Recreational fishing/angling
Eastern Funen is a fantastic place for recreational angling. Here you'll find several coastal places where you can use both fly and spinner.
With its many kilometers of coastline, Hindsholm provides optimal chances for a good fishing experience. Most of the coasts of Funen can be reached within a one hour drive so there are plenty of possibilities.
From Rødkærgård to the inlet of Kerteminde there is just 200 meters by private path. The water is abundant with aquatic life such as mussels, crabs, seaweed, shrimps, flatfish and even trouts. Rødkærgård is located where the inlet is deepest and most narrow.
We have some reading material on recreational fishing/angling for inspiration for those of our guests who want to know more.
Recreational fishing events
Information about good fishing places can e.g. be found at Havørred Fyn. One big event on Funen is the Seatrout Open, which is a spring and fall competition. For more info, see Go Fishing.
Our holiday houses and apartments all have a smaller freezer for storing your catch. If you stay in a room, there's also space for a couple of fish in a shared freezer.
We also provide drying space for wet fishing clothes/waders etc. so that it'll be ready for the following day's fishing adventure.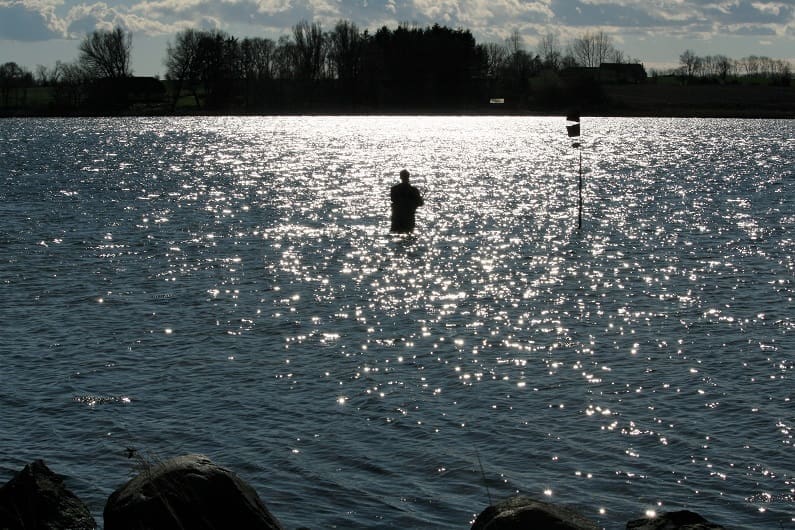 Fishing from the coast
In Denmark, fishing from the coast is fantastic.
Fishing license
To be able to fish in Denmark, everyone of more than 18 years of age must be in possession of a fishing license. It can be purchased at The Danish Fisheries Agency.