Rooms with private bathroom
We have 4 lovely rooms with private toilet and bath facilities, TV, blackout curtains and Wi-Fi. The rooms are located in the west-facing wing with a fantastic view to Kerteminde fjord. The rooms are equipped with a double bed, a small table and two chairs.
The wing with the rooms originally served as stables for horses, cows and pigs and had hay stored in the loft. The stables were completely transformed in 2008. The old hayloft was changed into 4 spacious rooms with views to the inlet from French balconies. The stables on the ground floor were changed into a big and bright dining room where we now serve breakfast.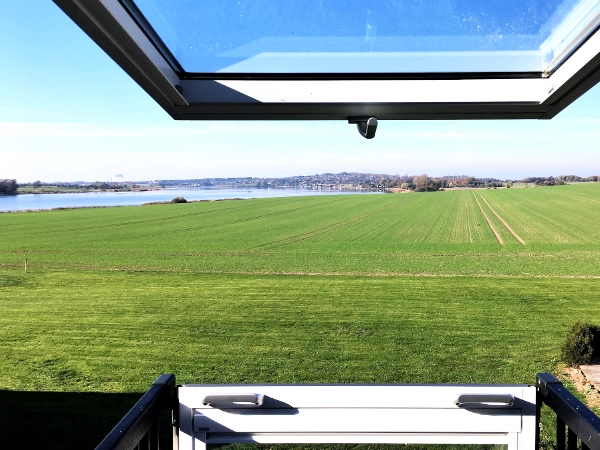 Breakfast
Breakfast is included in the price for accomodation. We bake our own bread and serve cheese, marmalade and cold cuts as well as muesli, oatmeal etc. The soft-boiled eggs are to the extent possible from our own chickens and we serve honey produced by our own bees. Furthermore, we serve coffee, tea, milk and juice. We prioritize bio products, sustainability and local produce.
In the hallway outside the rooms, there is a fridge with a shelf for each room. Here you will also find a microwave oven and waterboiler for tea or coffee as well as our Honesty Bar.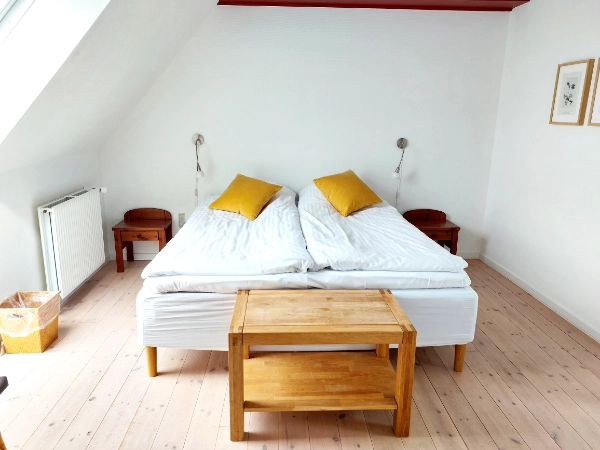 Bringing your dog
If you are travelling with man's best friend, we recommend our holiday houses or apartments where he or she is most welcome. No pets are allowed in the rooms in the west-facing wing.
See the sunset from the rooms
In front of the dining room facing the inlet, there is a shared terrace where you can enjoy the setting of the sun over the small town Munkebo. Perhaps with a glass of chilled white wine or a beer from the Honesty Bar which is always open. Please serve yourself.
We have lots of parking spaces
At our place there is room to park any car – even if you bring along a boat or horse trailer. If you arrive on bicycle, moped, motorcycle or in a classic car, there is a good possibility that you can park it indoors in the big barn.
Prices
For two persons the rooms will cost DKK 775,00 per night, for at least two nights stay.
For just one night the price for a double room is DKK 850.
The price for one person is DKK 700,00 per night, for at least two nights stay.
For just one night for one person the price is DKK 775.
Extra bed per night: For adults: DKK 175,00. For children up to 12 years: DKK 150,00.
Prices include bed linen, towels and breakfast.
Call us at +45 6128 0714 or send us an email
– if you want to book a room or if you have questions.