The
story of Rødkærgård
The story of Rødkærgård is long. Rødkærgård – as it stands today – is a farm built around a square in 1877 where it was considered to be quite a modern farm. However, the complete history of the farm dates more than 400 years back in time.
It was moved 100 meters away from the other farms in Lille Viby to reduce the risk of fire and because the owner at the time could afford it. As his wife, Ane Marie, supposedly said: "We could have built two!".
Our family's place as third generation of direct descendants in the story of Rødkærgård begins in 1934. Pia's maternal grandmother, Marie, bought the farm, after her childless aunt, Karen Oline, who lived there, had passed away.
Being a girl and since she had a younger brother, Marie was not the one that was going to take over her own childhood home in Drigstrup. It was therefore arranged that she could purchase Rødkærgård which now had no owner.
Marie & Jens
In 1935 Marie married Jens to whom she was engaged. Jens was a smallholder's son from Bregnør who had completed the agricultural education. At Rødkærgård he cultivated the land and Marie assisted him. They had three children, Hanne, Anders and Bertha, the youngest one. Marie and Jens ran the farm until Jens passed away in 1979.
For the first many years, farmhands and maids worked at the farm to help in the fields and in the kitchen and to help take care of the three children. Niels was one of the farmhands at Rødkærgård and this is how he and Bertha met.
Bertha & Niels
Bertha and Niels got married in 1966 and built a house in Odense. Bertha received office administration training and Niels worked as a smith. They had two children, Pia and Martin, and life was good in Odense.
When Jens died in 1979, it was a strong wish for Marie to see one of her children take over the farm, so that it would remain property of the family. Nevertheless, all three children had established themselves elsewhere, since they were no longer to the same extent bound by previous times' traditions and customs and by what was right or wrong. It ended up being the youngest daughter, Bertha, who returned home to the family farm with her own family. This was in 1980.
Niels and Bertha kept working in Odense in the first years while cultivating the 18 hectares of land in their spare time. Later on, the land was leased and the plans for a B&B were launched.
Pia & Peder
We, Pia and Peder, became part of the story and took over Rødkærgård Bed & Breakfast in July 2014 from Bertha and Niels. Bertha, like her mom, had a strong wish to keep the farm on family hands. Martin, who is Pia's younger brother, lives in Brussels with his family and enjoys life in the city there.
We owned property and worked in the Northern part of Funen, but we knew that someday we would make our dream to live at Rødkærgård come true. Peder is a professional gardener and Pia has a diploma in pedagogy.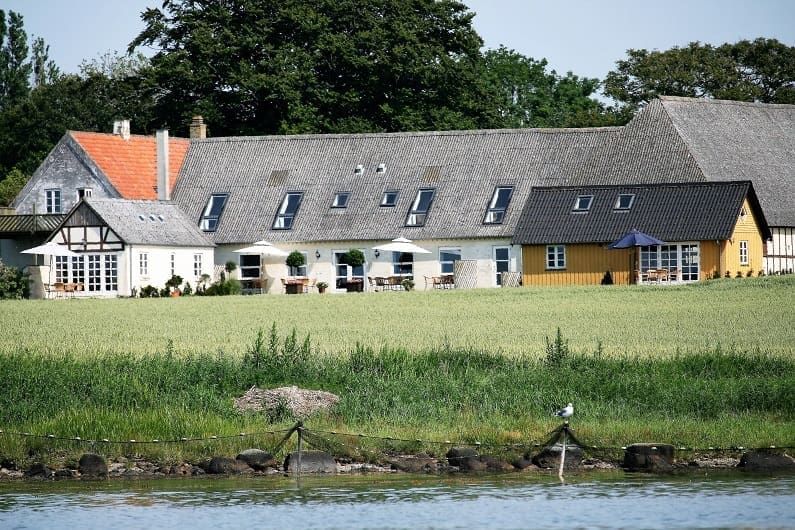 Bed & Breakfast since 1993
Rødkærgård has served as Bed & Breakfast since 1993, where the two "baby birds left the nest". The first guests were accommodated in the farmhouse, that had four rooms and just one bathroom under the staircase.
In 1998, the eastern wing was transformed into two holiday apartments. Later, in 2003 and 2005, the small pigpen and the old machine house were transformed into two independent holiday houses. Breakfast was served in the "fine living room" in the farmhouse.
As the number of guests increased, in 2008 Bertha and Niels decided to make their dream to transform the western stables wing that faces the inlet come true. The result was 4 bright rooms with private bathroom and toilet on the first floor and a huge dining room on the ground floor.