Kayak rental near Kerteminde
At Rødkærgård we have kayak rental of two beginner-friendly kayaks. They are flat-bottom, stable kayaks and can be rented on an hourly basis. We do not rent out to groups.
We rent out the kayaks from mid-April until October.
If you want to enjoy and see the area from the water, taking out a kayak is a lot of fun. There are about 200 meters to the inlet from the farm. You bring the kayaks to the seaside on trailers. The water is quite shallow in great parts of the inlet. This means that it is relatively easy to get into and out of the kayak.
The kayaks are unsinkable and have storage space for a little bit of luggage. The flat-bottom kayaks are very suitable for beginners and can also be fun to take out for more experienced paddlers.
Practical info about kayak rental
Life jackets and paddles are included in the rent. There are certain safety conditions that must be acknowledged and signed in a rental contract.
The kayaks are put in the water from the beach near Rødkærgård and must stay in the inlet.
All sailing is at your own responsibility. If it's too windy, we reserve the right to cancel a booking. It must be a good and safe experience.
Kayak vacation
Are you paddling around Funen or in the waters off the coasts of Eastern Funen in your own kayak, you can reach us about 3 km inside the inlet of Kerteminde and spend the night here. We are located about 200 meters past the Ladbyskibet on the opposite side.
Check out our rooms and holiday houses and apartments. Your kayak can be stored inside our barn for the night or during the day, if you have disembarked for an adventure on land.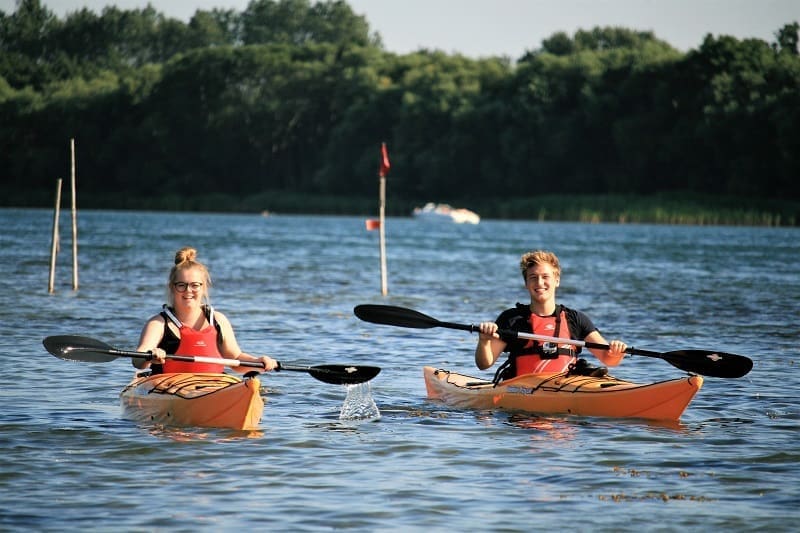 The inlet is perfect for a calm tour on the water. You can visit the Viking museum Ladby from the waterside. Arrive like the Vikings! It is just approx. 200 meters by kayak from Rødkærgård.
Prices
3 hours in the morning from kl. 10-13: DKK 250.00 pr. kayak.
3 hours in the afternoon from kl. 15- 18: DKK 250.00 pr. kayak
The price includes loan of towel and waterproof bag.
The price includes the rental of a towel and waterproof bag.
Call us at +45 61280714 or send us an email if you want to know more or book the kayaks.