Holiday Home North
Holiday Home North is a well-equipped, detached and high standard holiday house with a large south-west-facing terrace and a stunning view of Kerteminde Fjord.
The living room includes both a lounge setting and a kitchen with dishwasher, oven, microwave oven, cooktop and refrigerator/freezer. You'll find a TV, radio and free Wi-Fi there, too. The house sleeps 4 persons. The bedroom has to single beds. In the living room, the sofa can be converted into a 140 cm wide sofabed. The bathroom has a shower as well as a washing machine and dryer. The terrace is furnished with four chairs, a table and a lounger. The peaceful surroundings make the perfect setting for relaxation. With the inlet only 200 meters away, you can easily bring a cup of coffee to the shore and enjoy it there while listening to the sound of the water and the seabirds. The water is very clean and refreshing to swim in or why not see if the fish are biting? We rent out kayaks, which will give you a chance to explore the area from the seaside.
You can bring your dog to the Holiday Home North for an additional fee.
History of Holiday Home North
The house was originally a pigpen back in the days, when Pia's grandparents lived on the farm and cultivated the land. The house itself is built in recent years, but the foundation is the original one. It has the exact same size as always. The only difference is, that there are no longer pigs in the house. It is now for our guests to enjoy the fabulous location of the house.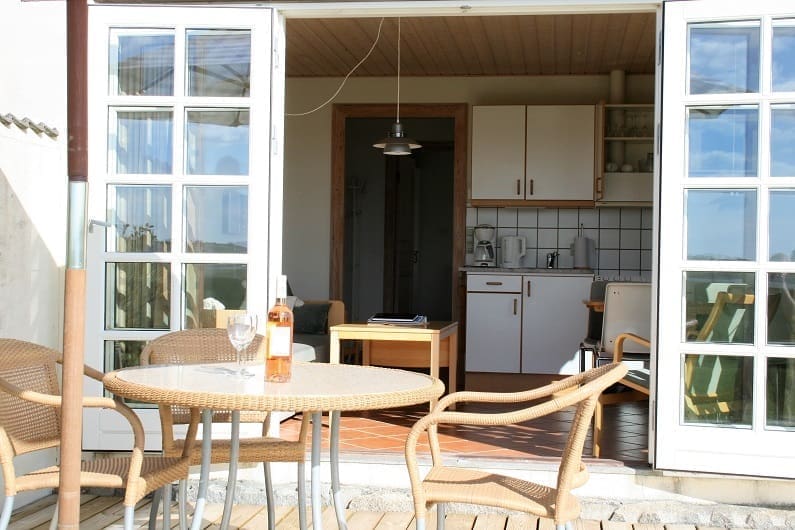 Prices
Per night for one or two people: DKK 825.00 / pr. week: DKK 5360.00
Per night for three people: DKK 875.00 / pr. week: DKK 5690.00
Per night for four people: DKK 925.00 / pr. week: DKK 6010.00
The price includes bed linen and towels. It's possible most days to add breakfast to your stay. We serve it in our dining room for an additional DKK 90,00 per adult and DKK 60,00 per child up to 12 years.