Attractions in Kerteminde
There are several attractions in Kerteminde worth visiting. Each one of them provides a nice introduction to the area.
Very famous local bird painter. The museum also used to be the home of Johannes Larsen and it is very cozy, authentic and interesting.
The Ladby Ship is located just 950 meters away fra Rødkærgård in a bee-line across the inlet. It is an interesting modern museum about the Vikings of the region. It is highly likely that Vikings lived on the Rødkærgård lot, too.
At the Fjord og Bælt Museum you can learn more about what happens beneath the surface of the inlet and the ocean.
Museum about Kerteminde around year 1900.
The top of Hindsholm with an atypical nature with traces from the ice age, located about 23 km from here. Fyns Hoved can easily be reached by car, but it is also a nice destination for a good bike ride. Check out the link to the Nature Agency.
The Great Northern is a nearby golf course. It is a very short drive by car from Rødkærgård. The architect behind the course is the American Nicklaus Design. The course was underway for six years, partly due to unforeseen challenges, partly because of high ambitions to deliver a no less than perfect course for the opening.
Renowned, top restaurant in Kerteminde. Gourmet food in a relaxed atmosphere on the habour. Other good eateries in and around Kerteminde and Munkebo can be found via VisitKerteminde.
Funen
Attractions on Funen are 16 major attractions and museums on Funen. Among them are the house of H. C. Andersen and some of the attractions mentioned above in and around Kerteminde.
There are many, many more exciting attractions in Odense and on the rest of Funen than we have mentioned here. See more at VisitOdense and visit Fyn
From Rødkærgård it takes 20-30 minutes by car to reach Odense, depending on where you are going in Odense. Most places in Funen can be reached within a one hour drive by car.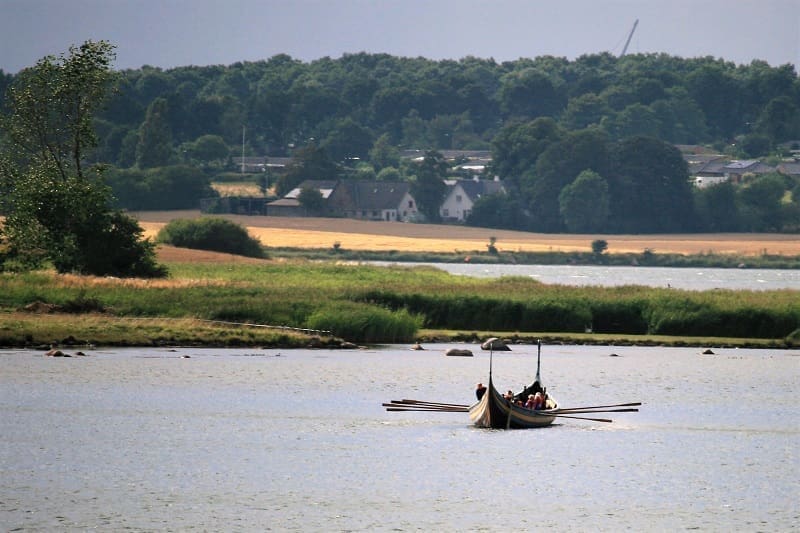 In summertime, it is possible from Rødkærgård to see the Ladby Dragon sailing on the inlet. The Ladby Dragon is a true copy of the excavated viking ship from Ladby which is located at the opposite side of the inlet.
As a new tradition, the ship will be launched every year on the eve of Big Prayer Day which is in the spring.